Fawaz Abusneineh
Acting Head of Global Corporate Finance
First Abu Dhabi Bank (FAB)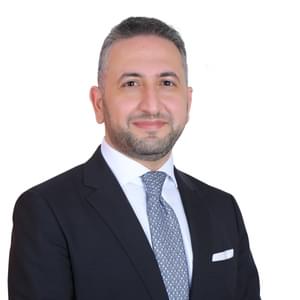 Biography
Fawaz is in charge of the DCM Origination business for FAB's Global Corporate Finance clients. He has worked on a number of landmark transactions for high profile issuers in the Corporate, Institutional and SSA space, covering various DCM products from plain vanilla bonds and setting up MTN Programs, to project bonds, hybrid capital and liability management, both conventional bonds and Islamic (Sukuk).
Fawaz has also originated and overseen the execution of numerous landmark deals outside the region, including the inaugural sovereign Sukuk issuance from HM Treasury and Hong Kong Government SAR. Prior to this role, Fawaz headed FAB's global distribution of Syndicated Loans and also managed FAB's Proprietary fixed income portfolio.
Fawaz holds a BSc (Hon's) in Accounting & Finance from the London School of Economics and is a holder of the Chartered Financial Analyst ® designation. He is also the Chairman of the Middle East Region for International Capital Market Association (ICMA) and a Board Member of The Gulf Bonds and Sukuk Association (GBSA).
---
Speaker at these events:
Bonds, Loans & Sukuk Middle East 2022
Chairperson's opening remarks
Chairperson's closing remarks and close of Day One
Bonds, Loans & Sukuk Middle East 2021
Weathering the COVID storm and the economic after-shocks: How are corporates approaching funding through volatile times
Bonds, Loans & Sukuk Middle East 2020 - Virtual Conference
Sovereign strategies: How are governments planning to finance their roads to recovery while maintaining their ratings?
Bonds, Loans & Sukuk Middle East 2020
Navigating through the markets: Pricing and making sense of GCC credit spreads
Bonds, Loans & Sukuk Saudi Arabia 2019
Case study: Preparing, structuring, packaging and distributing Saudi Arabia's first-ever corporate bond
Bonds, Loans & Sukuk Middle East 2019